A 7 day and 6 night Tour in 2 countries! YES 2 Countries! Cambodia and Thailand!
You will also witness the GRAND OPENING of our First International Office! WELLife CAMBODIA!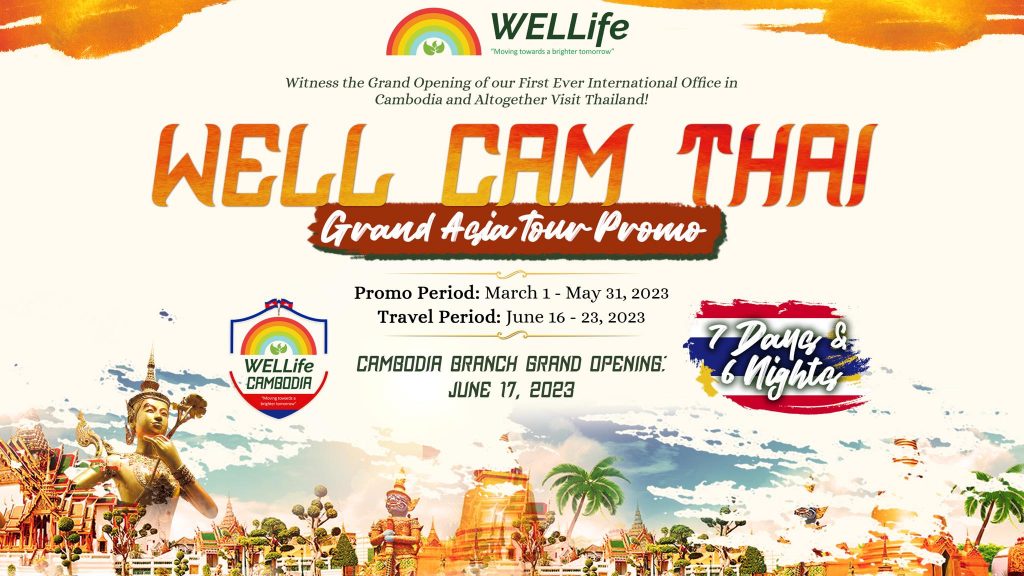 🚨 Mechanics: 🚨
Earn a Total of 550 TP and immediately Qualify!
NEW ENTRIES
🌸 Sign up as one of our WELLifepreneurs within the promo period and earn Travel Points
NEW DEALER: 4 Travel Points
NEW MOBILE STOCKIST: 30 Travel Points
NEW AREA STOCKIST: 60 Travel Points
SPONSORSHIP
🔥 Earn Travel points when you share the business and successfully sponsor or close a new WELLifepreneur within the promo period. The dealer/stockist who closed the feal for any of the new stockists will receive the Travel Points.
SPONSOR A NEW DEALER: 2 Travel Points
SPONSOR A NEW MOBILE STOCKIST: 20 Travel Points
SPONSOR A NEW AREA STOCKIST: 40 Travel Points
REPURCHASES (Area Stockist)
😍 Earn 20 Travel points for every WELLife Product Repurchases worth 50k in one single transaction. This can be accumulated every 50k worth of purchases.
ATTENDANCE (ONLINE Presentations)
✨ Earn 2 travel ponts per meeting. WELLBOOM, WELLDONE, STOCKIST MEETING.
Grabe diba!!
Just by doing what you really need to do to grow your WELLife business, you'll get a chance to be a step closer to the dream of many — visiting 2 countries in one go!
✨WELL CAM THAI – Grand Asia Tour Promo✨
7 days and 6 nights Tour!
Earn your travel points by doing the usual things that you're doing for your WELLife business:
✅ Product repurchases
✅ New Entries
✅ Attendance to Meetings & Trainings
Congratulations in advance, WELLiferepeneurs!